Awan Timur Group
ProAuto™ Vertical Sterilization System

System Overview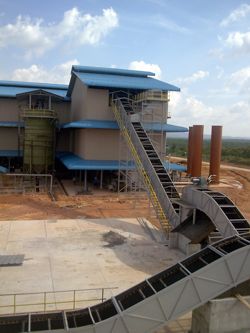 ProAuto™ Vertical Sterilization System can be summarized as follows;
Simple and automated system with FFB conveyor to vertical sterilizers. Sterilized fruit bunch (SFB) conveyor to thresher. The rest of the downstream system is the same as any conventional mill.
Replaces the conventional horizontal sterilization system that uses FFB cages, winches/ indexers, rail tracks, transfer carriages, hoist/ tipper and other handling system.
Reduces manpower from about 10 to 2 persons per shift.
Improves product recovery (OER & KER) & quality by minimizing fruit handling and its closed system.
Enable good manufacturing practices (GMP), graded food safety (HACCP) and RSPO compliance.
Safer and easier maintenance & operation due to its simplicity and automated design.
Reduces capital cost with smaller footprint and no pit as compared to conventional system with large footprint to accommodate the horizontal sterilizer and rail track marshaling yard. In addition, pits are required for transfer carriages and tipper system in a conventional system. Moreover the machinery /equipment is lesser consisting only FFB conveyor, vertical sterilizer and SFB conveyor against the multiple handling machinery /equipment in conventional system.
Improves and more control throughput with shorter processing time (sterilization to thresher).
Better housekeeping with smaller footprint and no pit design. Moreover it is a closed system that prevent spillage.